ADVANCED Animal Training with HORSES!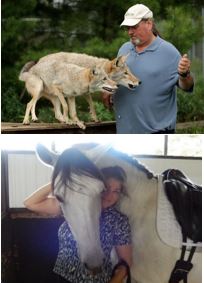 Don't miss this exciting and unique opportunity that combines advanced behavioral science lectures and hands-on training with horses!  Participants will work directly with a variety of horses, with a focus on teaching cooperative care and husbandry, overcoming fear, resolving behavior challenges, and introducing tack and equipment.  Note – all training is on the ground – this is a non-riding event.  Prior equine experience helpful but not required.
Instructors for this workshop are Ken McCort and Sharon Madere.
Click "Detailed Info" button on the right for more information.
Costs:
Hands-On Participants: limited to a maximum of 18 highly experienced, science-based animal trainers/keepers.   $950
Auditor/Observer Participants: limited to a maximum of 18, no prior experience required.  $350
10% discount for members of:  AAZK, ABMA, AVSAB, BEGI, BEN, IAABC, IATCB, ISES, KPA-CTPs, SVBT, Veterinary Students and Veterinary Technician Students.
CEUs:
CCPDT 25.5 (Trainers) 4.5 (Behavior Consultants)
IAABC 31.5 for Hands-On, 24 for Auditor
IATCB 24
KPA-CTP  31.5 for Hands On, 24 for Auditor
Additional CEUs pending