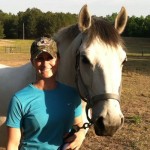 I am still truly amazed at Shark even after only 4 months of working with you and positive reinforcement. He is so much happier now than I have ever known him to be. His pain and frustration is melting away each day. It makes me so happy and satisfied that it drives me to continue this path and never again allow him to feel unhappy or unsafe.  I just can't thank you enough for teaching me the way and giving us a chance!   … C.P.
---
I love my Classical riding lessons with you and so does my horse!  I feel like I now have some technical skills to work on that actually bring about results that are good for me and for him. Working with you is transformational!   – S. K.
---
Sharon Madere's generous spirit and wealth of knowledge are a great combination. I have benefitted so much from her insights and suggestions not only with my horses but with my cattle! Horses love the work she does with them. Their brains are activated by it! I feel very lucky to have crossed paths with Sharon.   Really a joyful experience!  – S.H.M.
---
My daughter and I thoroughly enjoyed your workshop!  I would definitely attend another, building on the foundation that was laid Saturday.  The content flowed nicely, created a good understanding of the principles and expectations, followed by examples.  The practice-with-partner section was key to understanding timing and structuring a training plan.  It was extremely helpful and effective to have multiple observation opportunities to watch Sharon working with each horse, to see the horse respond, and to have her explain each session.  The whole experience was wonderful – please let us know when there is another.  M. & B.
---
Special thanks to Ms. Sharon Madere for her consultation with us and Pal Boy. Sharon took her time over the phone to talk to us about Pal's recent behavioral issues. She is very kind and understanding and really knows her stuff. He is back under saddle and in much better spirits today.  Jan White, Cope, SC