Three Day Workshop with Ken McCort & Sharon Madere
January 26-28, 2018
Silver Moon Farm
45 NW 125th Ave, Ocala, FL 34482
Don't miss this exciting and unique opportunity that combines advanced behavioral science lectures and hands-on training with horses! Participants will work directly with a variety of horses, with a focus on teaching cooperative care and husbandry, overcoming fear, and resolving behavior challenges. (Note – all training is on the ground – this is a non-riding event.) Hands-On Participants are limited to highly experienced, science-based animal trainers/keepers. Prior equine experience helpful but not required. Auditor/Observer participation also available.
WHY HORSES?
For those people who admit to a life-long horse addiction, the answer is obvious.  🙂
If you usually work with other species, you'll find many benefits in training horses:
Horses are grazers.  And they are big.  Because they eat 16-18 hours out of every 24, this means they won't get full in training sessions.   Many of us have enjoyed amazing cross-species learning experiences with chickens, macaws, guinea-pigs, etc., but our actual daily hands-on time can be somewhat limited.  Most horses are happy to play many sessions of the training game throughout the day – which gives you more direct application time.  Our goal for this Workshop is a minimum of 3 hours of handling/training per day with your assigned horse.
Horses are expressive.  And they are big.  There's a lot to watch and a lot to learn in developing your eye to read both obvious and subtle body language.
Horses are amazing.  And they are big.  Nothing quite compares with earning the trust and friendship of a 1000 lb. beautiful, powerful, gentle, majestic animal.  (But we also have youngsters to work with, for those who might feel more comfortable with a smaller version.)
THE PRESENTERS / TRAINERS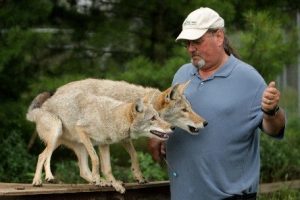 Ken McCort provides private consultations through his Ohio-based business, Four Paws Animal Behavior Services. His many activities include presenting at numerous training and veterinary conferences, developing the Pet Partners skills and aptitude test, and 20+ years with the Doggie Brigade at Akron Children's Hospital. Through projects and educational events at Wolf Park in Battleground, IN, Ken has given many dog trainers unforgettable opportunities to work with alternate species. (Photo: Monty Sloan, Wolf Park Photography)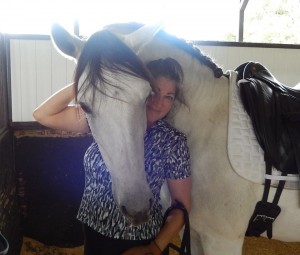 Sharon Madere's passion is all things equine: she's a Certified Horse Behavior Consultant (IAABC), a boutique breeder of Iberian horses, rides/trains/competes in artistic Classical riding, and is founder of EquiLightenment. Sharon takes on individual behavior cases, conducts training workshops and wet-labs, and lectures to veterinary students – all with a focus on the principles of learning theory and positive reinforcement to increase safety, enhance higher level performance and improve welfare.
THE HORSES
Approximately 20 Iberian horses (Andalusian and Lusitano), including foals, yearlings, 2 year olds, brood mares, breeding stallions, and adult geldings.
FACILITY
Thirty-nine acre breeding training and education facility with 14-stall barn, covered lighted arena, air-conditioned lecture building.
PREREQUISITES FOR PARTICIPATION
HANDS-ON PARTICIPANTS: Candidates for full Hands-On must complete a detailed Application listing past training experience with domestics, exotics, and/or livestock. Applications will be reviewed by Ken McCort and Sharon Madere for participation approval. Maximum of 18 Hands-On Participants.
AUDITORS / OBSERVATIONAL PARTICIPANTS: There are no prior experience requirements; however the subject matter will be advanced and assumes a solid knowledge of Learning Theory and Behavior Modification techniques. Auditors will participate in lectures, discussion, Q&A, and non-horse mechanical skill exercises, but are limited to observation during the horse training sessions. Auditors must complete Registration Form. Maximum of 18 Auditors, filled on a first-come basis.'
COST
$950 for Hands-On Participants
$350 for Auditors / Observers
10% discount for Veterinary Students, Veterinary Technician Students, members of AAZK, ABMA, APDT, AVSAB, BEGI, BEN, CPDTs, IAABC, ISES, KPA-CTPs, SVBT
CEU CREDITS
This Workshop is currently approved for the following Continuing Education Units:
CCPDT  25.5 (Trainer) 4.5 (Behavior Consultant)
IAABC  31.5 for Hands-On;  24 for Auditor/Observer
IATCB  24
KPA-CTP  31.5 for Hands-On;  24 for Auditor/Observer
Additional organizations pending
APPLICATION PROCESS
Hands-On Participants:
Applications will be reviewed for approval by Ken McCort and Sharon Madere.
Download and complete the Application, then email it to EquiLightenment@gmail.com
You will be notified within 2 weeks of your status.
If approved, a 50% deposit and a signed Liability Release will be required to reserve your place.  Mail to EquiLightenment, 45 NW 125th Ave, Ocala, FL 34482.
Full payment will be due December 29, 2017.
Auditor / Observer Participants:
Download ans complete the Liability Release
Mail both forms with full payment to EquiLightenment, 45 NW 125th Ave, Ocala, FL 34482
ELIGIBILITY REQUIREMENTS
Hands-On Candidates must be experienced trainers or keepers who've worked with either:

a minimum of three different species, with at least 3 years of experience, OR
a minimum of six individual horses, with at least 3 years of experience

You should have functional familiarity with:

Use of a marker signal (clicker, whistle, tongue-pop, etc.)
Target training
Shaping (successive approximation)
Building duration
Training without the use of force, intimidation and/or aversive control

Physical ability to work outside in close proximity to horses
Physical coordination to stand for an hour or more at a time, and to move quickly if needed
Good peripheral vision and awareness of the environment around oneself
Desire to learn, to work with other trainers and to have fun
EDUCATIONAL OPPORTUNITIES
Subject matter will include equine ethology, management impact on behavior issues, and practical skill development for training cooperative care, overcoming fears, dealing with behavior issues, and introduction of tack.

Develop training plan for teaching cooperation for standard veterinary and farrier procedures, and/or preparation for riding.
Develop training strategies for solving behavior problems, then implement behavior modification with individual horses.
Work in cooperation with other trainers to develop a team approach to implementing the strategies.
Discussion, demonstration and optional hands-on skill development using tactile prompts, guidance, and low intensity negative reinforcement.

Lecture and group discussions with other experienced trainers

Please Note:  Workshop Leaders and their Assistant Trainers reserve the right to ask any participant at any time to stop training any of the horses if they deem it necessary for the safety and well-being of all concerned.
TRAVEL LOGISTICS
The Orlando International Airport (MCO) is about a 90 minute drive to Silver Moon Farm, via The Florida Turnpike (toll road) to I-75 North. Non-stop, reasonable flights are available from many cities around the country. Numerous rental car company service the Orlando airport. Alternate airports are the Orlando Sandford Airport, and the Gainesville FL Airport. As workshop registrants are approved, we can share contact information for those who would like to coordinate / share rental vehicles.
LODGING:
Group discount rate is available at Red Roof Inn, 120 NW 40th Ave., Ocala, FL 34482 (10 minutes from Silver Moon Farm.) $76.49 + tax, Group Name: "Advanced Animal Trainers," Block Code: "B638ANIMAL." To get this rate, reservation must be made by December 24, 2017. Phone 352-732-4590. The hotel is approximately 10 minutes from Silver Moon Farm. We can share contact information for those who would like to share a room with another attendee. https://www.redroof.com/property/Ocala/FL/34482/Hotels-close-to-Ocala-Speedway-I-75-/RRI638/
MEALS:
Lunch will be provided on Friday, Saturday & Sunday at the Workshop. (Meal request forms will be sent prior to the Workshop.)
Breakfast: If you are staying at the Red Roof Inn, convenient breakfast options are: Denny's (next door) and The Crossroads Country Kitchen (a few miles west on Hwy. 40, on the way to Silver Moon Farm). There are also a number of fast-food restaurants within half-a-mile of the hotel.
Dinner: One exit south down I-75, on Hwy. 200 (College Park Rd.), there are numerous chain and independent restaurants for dinner. If there is sufficient interest, we may coordinate a large group dinner one or more nights.
WHAT TO BRING:
Clothing: Check the weather for Ocala before you pack and plan accordingly.  Comfortable pants and/or shorts, short-sleeve and/or long-sleeve shirts that allow you to freely move your arms.  The classroom is fully climate-controlled for your comfort. Much of the handling/training with the horses will be in the shade (stalls, barn aisles, covered arena), but you will likely spend a bit of time in the sun as well. A visor or sunhat, and sunglasses are recommended. (If fair skinned, you may want to bring sunscreen as well.)
Shoes: Closed-toe shoes are mandatory. Paddock boots, hiking boots, or work-shoes with strong toes will offer greater protection than running shoes. (Though hopefully unlikely, it is possible that a horse may accidentally step on your foot.)
Equipment: If you have your own favorite treat pouch and/or target stick, feel free to bring them along.
HORSES ARE RISKY BUSINESS
CAUTION: Participants in the Advanced Animal Training workshop will be in direct contact with horses, not merely "protected contact." Working with horses, or being in proximity to them, carries with it clear inherent risks. All those choosing to participate do so with full acceptance of these risks, including risk of injury or death.
WARNING: Under Florida law, an equine sponsor or professional shall not be liable for an injury to or the death of a participant in equine activities resulting from the inherent risk of equine activities. Florida State Equine Statute 773.01
NOTICE: Silver Moon Farm is an equine facility. All activities on the grounds are subject to the Equine Inherent Risk Law. By your presence on these grounds, you have indicated that you have accepted the limits of liability resulting from inherent risks of equine activities. THIS IS NOT A SPECTATOR AREA. All persons in this area will be regarded as participants and limited by the INHERENT RISK LAW.